Woodbrook – A love affair for all things food & wine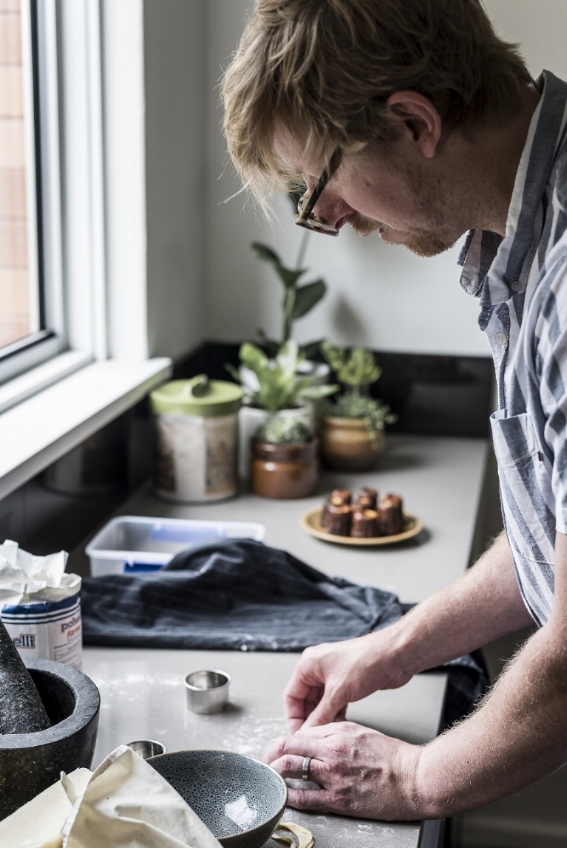 With only a week left to secure your tickets to our wintery Long Lunch with The Cook Grocer, on Saturday 18th August – (just a few seats left), we are bringing you the third instalment to our collaboration of producers involved in our urban event.
Part 1 was the wine & the wine maker with The Vintner's Daughter.
Part 2 we have the luxurious, earthly delights – Handpicked Truffles by The Blue Frog Truffle Farm.
And today we bring you Part 3 – Our Maestro's, Travis & Stefanie from Woodbrook, who will be orchestrating your senses for a gastronomical expression that will delight you in a wintery, luxurious six course degustation.
___________________________________
Woodbrook is a Food Project.
Expressing a passionate love affair for all things food and wine.
Woodbrook create dining experiences that make you feel like you are special, loved and they do turn nostalgic – in a hearty home made meets artisan meets totally our type of five star dining experience.
"Food that is shaped, cut and turned with their own hands". – Woodbrook
You can instantly sense why we were attracted to Woodbrook and their passionate team. When we meet with Travis & Stefanie, we knew that that they would be the creators who would uniquely curate the menu to bring out the unique flavours of the truffles and marry it all together with The Vintner's Daughters' wines.
Each course has been intricately thought through.
Deciding, testing, smelling, marrying flavours together with the wines and the truffles so that we (yes, you can still come) can delight in a Woodbrook creation. It will showcase the love affair with the food and more so with the hands that make it. Each course has its own depth in taste and aroma to discover.
It is not to be missed.
"We want to cook for you like you were in our own home". – Travis and Stefanie.
___________________________________
We spoke with Travis about the menu he and Daniel Raad curated for the The Long Lunch and a little more about what winter means to our maestro.
How will your menu entice people to dine at The Long Lunch?
Travis – I suppose there is an Italian tone throughout the food. Not really by design, but more that Italian food offers some nice opportunities to showcase truffles. Obviously there is a real emphasis on truffles, but I hope each dish offers a chance to understand their complexity a little more. The truffle will operate differently against the ravioli than it would against the pork belly. I'd really like people to see that contrast.
It is also a great opportunity to showcase what Woodbrook is about. We love bringing food to the table and we are driven by a desire to make everything by hand. We really want everyone to enjoy each dish, and hope that if they have a little patience for the combinations that it will prove rewarding.
What does winter food mean to you?
Travis – Comforting and warm. Winter is the time to push the pots to the edge of the stove and let them slowly simmer. It is the time to build rich and complex flavours. The bitter vegetables thrive and they can be employed carefully and with great contrast and effect.
And could you describe what Winter is like for you in the kitchen?
Travis – Relief. Long summers in the kitchen tend to be oppressive. The heat is inescapable, almost monotonous. Winter brings cool days and even cooler mornings. I like getting into the kitchen in the freezing cold. There is something indescribable about working in the kitchen as it warms up. It sets the tone and captures the rush.
___________________________________
On Saturday the 18th August, Woodbrook – A Food Project will showcase a sumptuous six course degustation for The Long Lunch with The Cook Grocer.
With hand selected local culinary fare by WoodBrook – A Food Project, and hand picked Truffles from The Blue Frog Truffle Farm, Stephanie Helm from The Vintner's Daughter will take you on a journey of the senses, a foodie and wine lovers delight. Each course in our six course degustation will be paired with a handpicked wine from The Vintner's Daughter.
Renowned for creating unique dining experiences, The Long Lunch is tailored to the season, the wines and the truffles especially for our guests.
We would be honoured if you would join us, Under the Gum's, amongst friends for our wintery long lunch.
**All tickets are available for purchase in store at The Cook Grocer.
***Photograph by Tim Bean Photography