The Long Lunch with The Cook Grocer
Words cannot express how happy we feel after such an amazing first event! Elated, happy, satisfied, joyous – the cat that got the milk! The Long Lunch with Clonakilla Wines and Murali from Mana Catering Solutions – was just perfect.
We hosted the first of our The Long Lunches with The Cook Grocer under the gums across from the shopping centre. The event showcased an exquisite five course degustation beautifully curated by Murali with local Canberra producers products and each dish was matched with award wining wines from Clonakilla.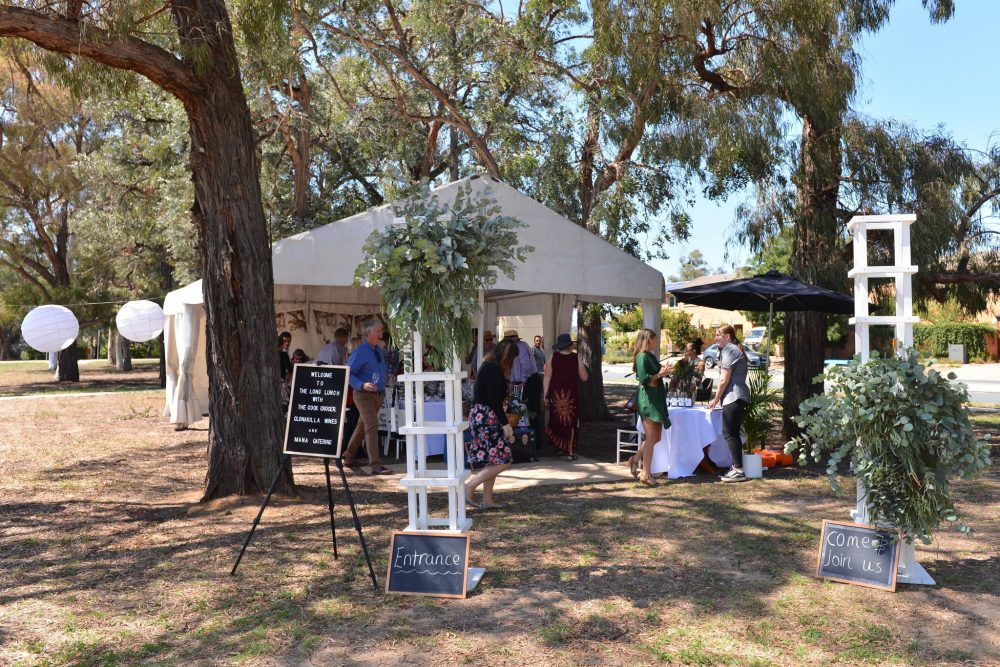 ___________________________________
Each course delighted the senses and took us on a gastronomic journey that Murali & Daniel Raad from The Cook Grocer collaborated together to bring the dishes to life.
To Begin we featured Freshly Baked Artisan Breads by Three Mills Bakery dipped in La Barre EVOO with Dukkah and Clonakilla's 2017 Viognier Nouveau
First Course was Aunty Jessy's Cheese Selection and Clonakilla's 2016 Viognier
Second Course was Cold Smoked Pialligo Estate Salmon with Redgum Smoked Salt, Roasted Beets, Cucumber Spaghetti and Dill Emulsion and Clonakilla's 2017 Riesling
Third Course was Magret of Quail with Braised Eggplant, Morella Grove Caramelised Balsamic Glaze with Soft Herbs and Clonakilla's 2016 O'Riada Shiraz
Fourth Course was Chateaubriand of Beef 'Sous Vide' with Paris Mash, Confit of Dutch Carrots, Shimegi Mushrooms with Veal Jus and Clonakilla's 2016 Hilltops Shiraz
Finale was delighted with Fine Dark Espresso & Dark Spiced Rum Chocolates Moulds by Jasper & Myrtle and Fresh Raspberries with Jasper & Myrtle Chocolate Sauce and a tasting of Clonakilla's 2016 Shiraz Viognier 
 ___________________________________
The Long Lunch with The Cook Grocer was a collaboration of so many people, whom we would love to say thank you too. Thank you for believing in the idea Daniel had to "do something a little different" and host our first Urban Dining Event. Our thanks goes to:
Our guests, our Long Lunchers – thank you for coming, for just enjoying yourself, eating, drinking & being in essence of the day.
Clonakilla Wines being the first vineyard in our region, it was testament you would be to with us for our first Long Lunch. Thanks to Jane Gordon for your knowledge and taking our guests on an adventure with the wines – it was such an honour to have you there for our first event.
Murali from Mana Catering Solutions – you work in your zone of genius intentionally and created a masterpiece for us to enjoy. Using so many local producers products in the menu, genius creations!
Thank you – truely grateful for your magical touch on everything. Big thanks to Anita too ?
Kelli from Pure Pod – Sustainable who collaborated so much of all the details for our event – you thought of everything! From this day forth you are known as The Decorator.
Music on the day by Mickey Sulit Music – thank you so much for giving our event the added atmosphere & vibe
Rosie & crew from Jamison Flowers for creating the beautiful gum creations you see throughout the photos –  the smell of the gum was incredible
All the beautiful photos were taken by Sally Witchalls and Grace McGurgan – ladies outstanding work!
Our Event squad team – Daniel, Karena, Kelli & Frances you worked your magic for weeks organizing & ensuring everything was taken care of
And our waitresses on the day – thank you!
To all our producers featured in the menu, thank you – your creations are soulfully delicious
Pialligo Estate Smokehouse
Olsson's Sea Salt
Jasper and Myrtle Chocolates
La Barre Olives
Three Mills Bakery
Aunty Jessy's Cheese
___________________________________
Our next 2018 date for The Long Lunch with The Cook Grocer will be announced very soon and our next feature winery so be sure to keep an eye out.
We would be honoured if you would join us, Under the Gum's, amongst friends for our wintery long lunch. Tickets are sought after and the food will just be delicious! It will be truly a Foodies Heaven.
**All tickets are available for purchase in store at The Cook Grocer.