CULINARY CBR. featuring The Food Dispensary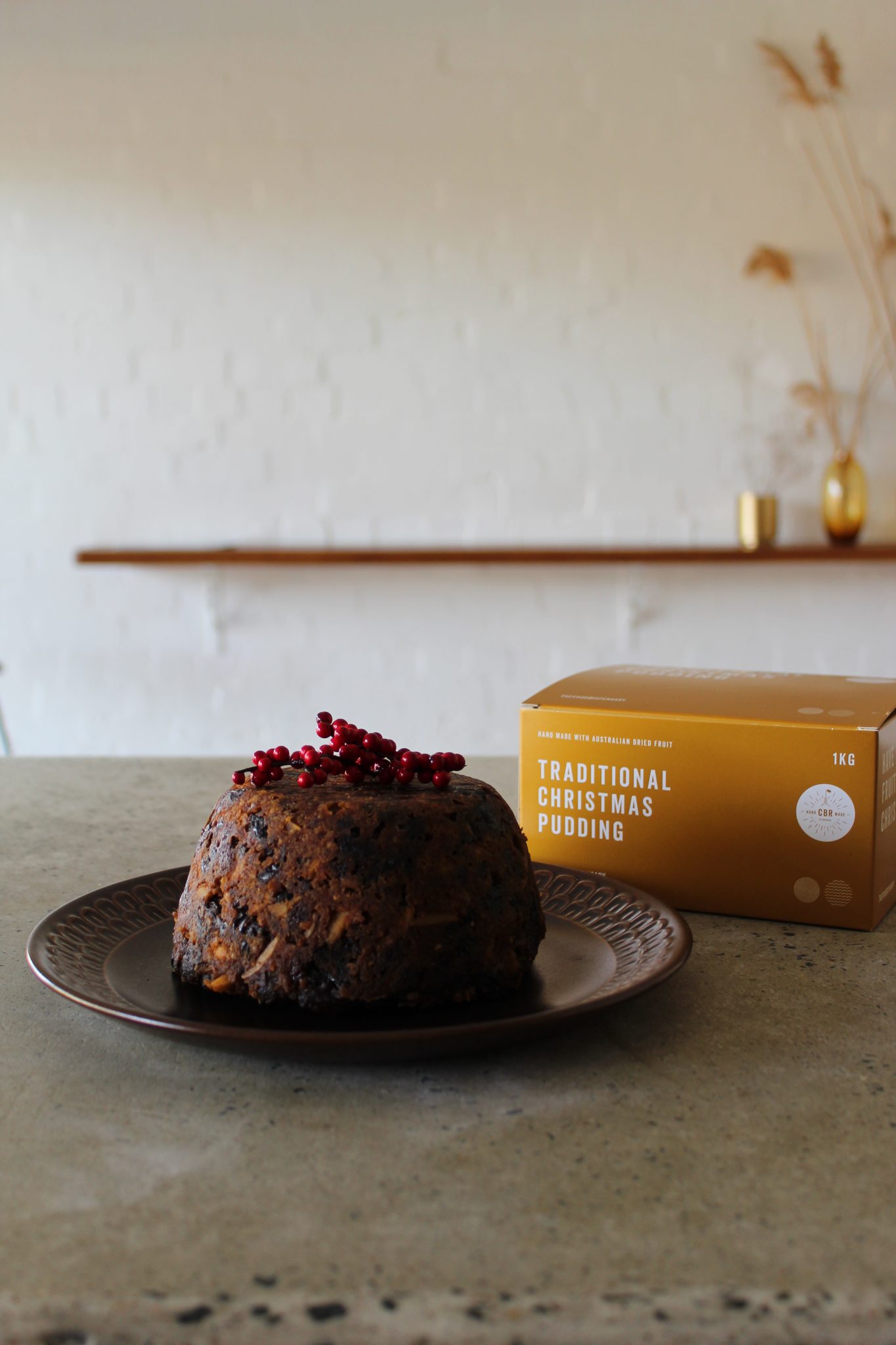 O  ur store is buzzing with Christmas Fever – the tree is up and there is a feast of Christmas specialities underneath it that we only see round this time of the year.
As we see your faces in store, everyone is telling us they are really looking forward to the pace slowing down & begin to enjoy that long awaited opportunity to deeply relax this year. This year has been a year like no other and I know personally, I am really looking forward to the pace to slow down and spend time with the family & friends in a relaxed way. I am pretty sure this recipe with a petite glass of PX Sherry will make sure I relax (aka deep sleep) all Christmas evening!
When we put our heads together to think of which local Producer would be our December feature – we instantly thought Pudding + The Food Dispensary.
A few years ago The Food Dispensary bought out their Traditional Christmas Pudding and it is hands down our sell out product each and every year. So for this festive season we are beyond excited that Travis & crew said YES to sharing a simplified version of their delicious Traditional Christmas pudding recipe for our December edition of CULINARY CBR.
We stock their locally made puddings every year in the shop. Which as I said before sell out in record time year after year. We have a hunch this recipe is bound to become a Christmas tradition that will be requested by the family each and every year.
That is why I am recommending the creme de la creme of PX's for this pud. Pair your Traditional Christmas Pudding with Valdespino el Candado Pedro Ximenez Sherry and Travis recommends pairing it with a clotted cream or a home made custard of your choice that uses the freshest ingredients. 
Thank you so much to Travis and the crew from The Food Dispensary for sharing their recipe for this delicious Traditional Christmas Pudding for our December edition of CULINARY CBR.
Enjoy trying out this delicious recipe to wow the family at Christmas Lunch. You will forever be grateful you did as this recipe will become a family tradition for years to come. Memorabile!
CULINARY CBR. is created by our Local Producers FOR our Local Community.
______________________________________________________________________________________
One of our first Producers to feature in the front fridge this was The Food Dispensary. In fact – they were our inspiration to feature locally made ready made meals!
And in our store, they paved the way for Local producers to bring their delicious meals to our dinner tables, not just to be enjoyed in restaurants or cafes.
The Food Dispensary have been bringing their passion for food into our home's throughout the years with their fresh pastas, slow cooked sauces and ready meals. Have you tried their Handmade Gnocchi & their Spicy Meatball dish? It is heaven on a plate!
Well-known for their iconic bright orange branding, you spot their products a mile away and then glints of slow cooked red sauces tempt you in even more.
Lovingly appreciated by all here in Cook, our locals week after week add The Food Dispensary's range to their menu to enjoy at home. If it is not in store when they come in, the next question is "When is your next delivery!". They are well known here, after being our Local Producer for our 2018 August Long Lunch – they wowed us with a six course degustation paired elegantly with Vintner's Daughters Wine Range, three years ago.
The Food Dispensary are truely a passionate bunch – their ethos feeding your love for good food – just hits our hearts (and stomaches) in the right spot. All lovingly handmade in Canberra, Travis (creator & head Chef) says their range "is loved by anyone who appreciates simple, well-made, delicious food". 
This festive season The Food Dispensary are delighted to share with you their delicious Traditional Christmas pudding. Supporting local producers and farmers, The Food Dispensary's puddings are a testament to their ethos of Real People, Real Ingredients and continuing to curate beautiful Handmade Local Products.
And without further ado, here is The Food Dispensary Traditional Christmas Pudding for our December edition of CULINARY CBR.
This is our initiative to support & eat local with Canberra & Regional Producers. Merry Christmas!
______________________________________________________________________________________
Traditional Christmas Pudding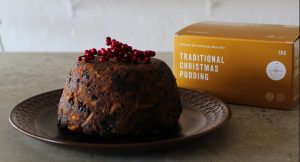 by local producer The Food Dispensary
Makes 1kg Pudding
Prep 1 Hour (+1 Week Soaking)
Cooking 5 Hours
The key to making a Christmas pudding great is two things; using quality Australian dried fruit and giving it a good, long soak; and secondly, leaving the mixture overnight so all the flavours have a chance to integrate before cooking. 
Ingredients 
400g Mixture of your favourite Australian dried fruit
50g Brandy
100g Stout
3g Lemon Zest
40g Lemon Juice
2 Free Range Eggs
10g Treacle
70g Granny Smith Apple, peeled and grated
50g Coarse Breadcrumbs
50g Plain Flour
100g Brown Sugar
50g Slivered Almonds, lightly toasted
85g Butter
1g Salt
Whole Nutmeg, freshly grated
5g Cinnamon, ground
2g All Spice, ground
2g Ginger, ground
1g Cloves, ground
2g Baking Powder

METHOD

1. Soak the dried fruit for one week in the brandy and stout, turning the fruit every two days. 
2. In a large bowl, combine lemon zest, lemon juice, eggs and treacle. Mix well.
3. In a separate bowl, combine apple, breadcrumbs, flour, sugar, slivered almonds, butter, salt, baking powder and spices.
4. Combine all three mixtures together in a large bowl with a wooden spoon and make sure all the ingredients are evenly distributed. Cover and leave at room temperature overnight.
5. The next morning, preheat the oven to 160˚c and get out your pudding bowl.
6. Cut two discs of baking paper – one the diameter of the base of the bowl, the other the diameter of the top. Grease the bowl with some butter and place the small disc of baking paper in the bottom.
7. Give the pudding mixture a final stir and fill the greased bowl. Put the large disc on top and cover the bowl with a few layers of foil that should be easy to hold in place with an elastic band.
8. Place the bowl in a bain-marie filled with boiling water (this should be deep enough to bring the water line ¾ of the way up the pudding bowl).
9. Cover with foil and place in the oven for 5 hours. Check the water from time to time and top it up with boiling water as necessary.
10. Remove the pudding from the oven and leave to cool completely.

Serving
We find our puddings so moist at room temperature that we never re-heat it. Simply remove it from the fridge and turn out from the bowl. Slice while it is still cold and leave covered on the bench to come to room temperature. Served with some clotted cream or homemade custard. We always find this incredibly satisfying and something wholly more suited to our Australian climate.
MERRY CHRISTMAS! 




Each month we are releasing a recipe from a local Canberra Producer to help you cook at home with our Regions Finest. It will help you take the guesswork out of meal planning or last minute decisions – everything available IN STORE for you to join us on our CULINARY CBR. journey.