CULINARY CBR. featuring Dough It Yourself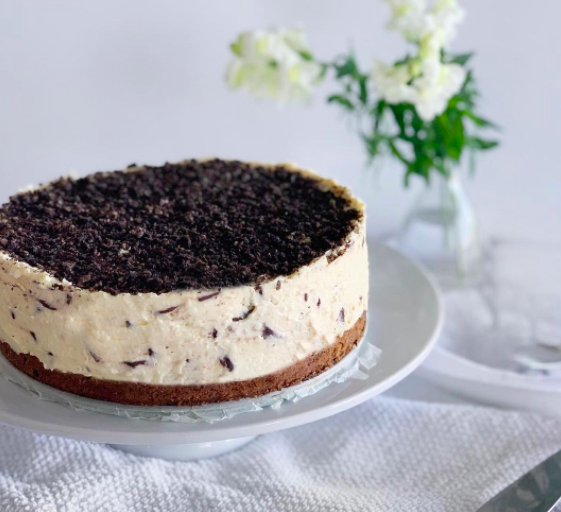 H appy New Year Cook!
Has it been a gentle one for you or intermittently wild? Similar to the storm cells we have had passing over Canberra this month. Wow – Mother Nature is keeping us on our toes! We lost power in the storm recently which put us into monitor mode for all our fridges, we were so lucky to only loose a bit of dairy with power returning around midnight.
Thank you to the emergency service men and women and EvoEnergy for everything and making sure our shop was back up and running.
During the storm a few of the gum trees around us up rooted near the bus stop and the Cook Oval area. It really is hard watching the old trees fall. We hope to plant a new gum once the clearing is complete. La Niña is leaving her mark for us to remember her by!!
We are loving seeing your sun kissed faces in store this month as you pop in to tell where you have been on holidays and where you are going, we also know many of our community are isolating, recovering or staying quiet as we all ride the next wave of Omicron together. Look out for each other, get outdoors to refresh your energy and remember if you need home delivery in 2614 please drop us your shopping list here we are here for you.
Summertime we are either on holiday, or a home holiday relaxing with the kids and family – spending quality time together without too much pressure. Reunions and catch ups mean we generally come together to celebrate with something sweet. When we brainstormed our feature recipes for January 2022, we had to choose a CBR producer that loves desserts!
Introducing Dough It Yourself, our dessert loving local Antonia who creates ready made cookie dough just for you to take home and bake, effortlessly.
Our Recipe feature is a decadent No Bake Chocolate Chip Cookie Cheesecake filled with cream cheese and topped Oreo pieces. YUM! Decadent and everything you would want to make to celebrate over the summer time with friends and family.
We stock Dough It Yourself Cookie Dough's in our front fridge – perfect to drop in and grab a cookie dough roll to make our recipe or bake up a batch of locally made cookies. Antonia has really made it easy for us!
Thank you so much to Antonia for sharing your delicious recipe with us for our January edition of CULINARY CBR.
Enjoy trying out this delicious recipe to wow everyones at your Summertime reunions with family & friends over the Summer. Be sure to share Dough It Yourself's recipe with them too and tag us in your creations too! 
CULINARY CBR. is created by our Local Producers FOR our Local Community.
______________________________________________________________________________________
We say it again and again – we are so spoilt by the selection of our local producers in the Canberra Region.
Such an incredible variety, from the OG's to the new kids on the block – there really is every reason to celebrate. Wine, chocolate, pasta, meats, micro herbs, ice cream, liquor, honey, muesli's, biscuits, breads, dairy…. the list in long! And seriously, if you only wanted to only shop local in 2022 to make your sustainable impact – you would eat like Kings & Queens!
Our Canberra Region is brimming with selection. It is seasonal, home grown, hand made, unique and authentic. 
A relatively new kid on the block, Antonia from Dough It Yourself has been spoiling us in 2021, locally with her regular deliveries of freshly made cookie dough. A dessert lover, her love for baking cookies (and her love for eating them!) started in her mothers kitchen quite late in life.
When our first lockdown's in COVID started in 2020 and we all became housebound, Antonia started to take an interest in baking. Having spent years watching her Mum in the kitchen, baking & creating, she was sparked by the memories they had shared together.
One particular memory that inspired her the most, was the wonderful aroma in the house when cookies were in the oven baking. When the first lockdown happened the idea grew. Antonia wanted to create something quick and easy so others can bring that wonderful homey, sweet smell into their homes came about.
And from there Dough It Yourself was born!
Locally, in a kitchen, in Canberra – being creative with a love of baking & sharing memories with her Mum.
And now it is time for everyone to delight in Antonia's creations. Her cookie dough range includes Choc Chip, White Chip Chocolate, Lotus Biscoff, White Choc & Macadamia and Peanut Butter plus if your wanted the hard work done for you Cookie Gift Bags or boxes of Glazed Cookies.
And without further ado, here is Dough It Yourself's No Bake Choc-Chip Cookie Cheesecake for our January December edition of CULINARY CBR.
This is our initiative to support & eat local with Canberra & Regional Producers. Enjoy!
______________________________________________________________________________________
No Bake Chocolate Chip Cookie Cheesecake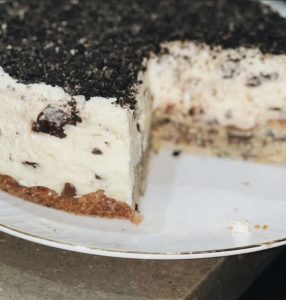 by local producer Dough It Yourself
Ingredients 
2 x 280g Philadelphia Cream Cheese
1 roll x Dough It Yourself Cookie Dough
125g sifted Icing Sugar 
1 tsp Vanilla Extract or Essence
300ml Double Cream
300g White Chocolate, melted
200g Chocolate Chips
1 x packet Oreo Biscuits
1 x 28cm deep Springform tin
METHOD

Remove your cookie dough roll from the fridge 20 – 30 minutes before you need to bake your base. 

Our dough is wrapped with baking paper, which you can use to line your springform tin.

Start to soften the cookie dough by rolling it onto a floured surface. Roll into a large ball then slowly press all the cookie dough into the base of your lined tin. Press in so it is even all the way round and smooth. 

Bake your base for 10 mins for a softer chewy cookie base, 15 mins if you would like it a bit harder. Remove your tin from the oven and set aside to allow it to cool until it is cold. 

Prepare your Oreo Cookie topping by pulling the cookies apart, to remove the white centre. Crush the cookies to form large crumbs. Put in a bowl and set aside for later.

Next melt the white chocolate in a bowl over a pan of simmering water, or in the microwave, on short bursts until fully melted. Leave to cool whilst you prepare the cake. 

In your stand mixer, with the whisk attachment. Whisk together the cream cheese, icing sugar and vanilla until smooth. 

Once your mixture is smooth, pour in the double cream slowly and whisk until thick. 

Next pour in the cooled, melted white chocolate and whisk briefly to combine.

Finally fold through your chocolate chips to the mix.

Spread the mix over your baked Dough It Yourself Choc-Chip Cookie Base and smooth the top over. 

Grab your crushed Oreo Cookies and sprinkle over the top of your cake to dress it.

Pop your cheesecake in the fridge for at least 5-6 hours, preferably overnight so it will be fully set. Ensure the cheesecake is set right through, you can run a skewer through the centre to check it is firm.

To plate your Cheesecake. Just before you are ready to serve, remove your cheesecake from the fridge. Place your tin on a plate and gently unlock the springform tin. With a warm knife run it around the edge of your cake ensuring it does not stick to the tin before removing. Gently remove the springform tin and base from your cheesecake. Either return your cheesecake to the fridge or serve immediately. 

Serve and enjoy this with fresh fruits or more cookies! 
Recommendations
We recommend returning the Cheesecake to the fridge once cut so it does not melt too much in the summer heat.
The cheesecake will be best kept in the fridge for 1-2 days and consumed in two days as it contains dairy products.
Best eaten immediately with your friends and family.
ENJOY!




Each month we are releasing a recipe from a local Canberra Producer to help you cook at home with our Regions Finest. It will help you take the guesswork out of meal planning or last minute decisions – everything available IN STORE for you to join us on our CULINARY CBR. journey.