CULINARY CBR. featuring Adam Shipp from Yurbay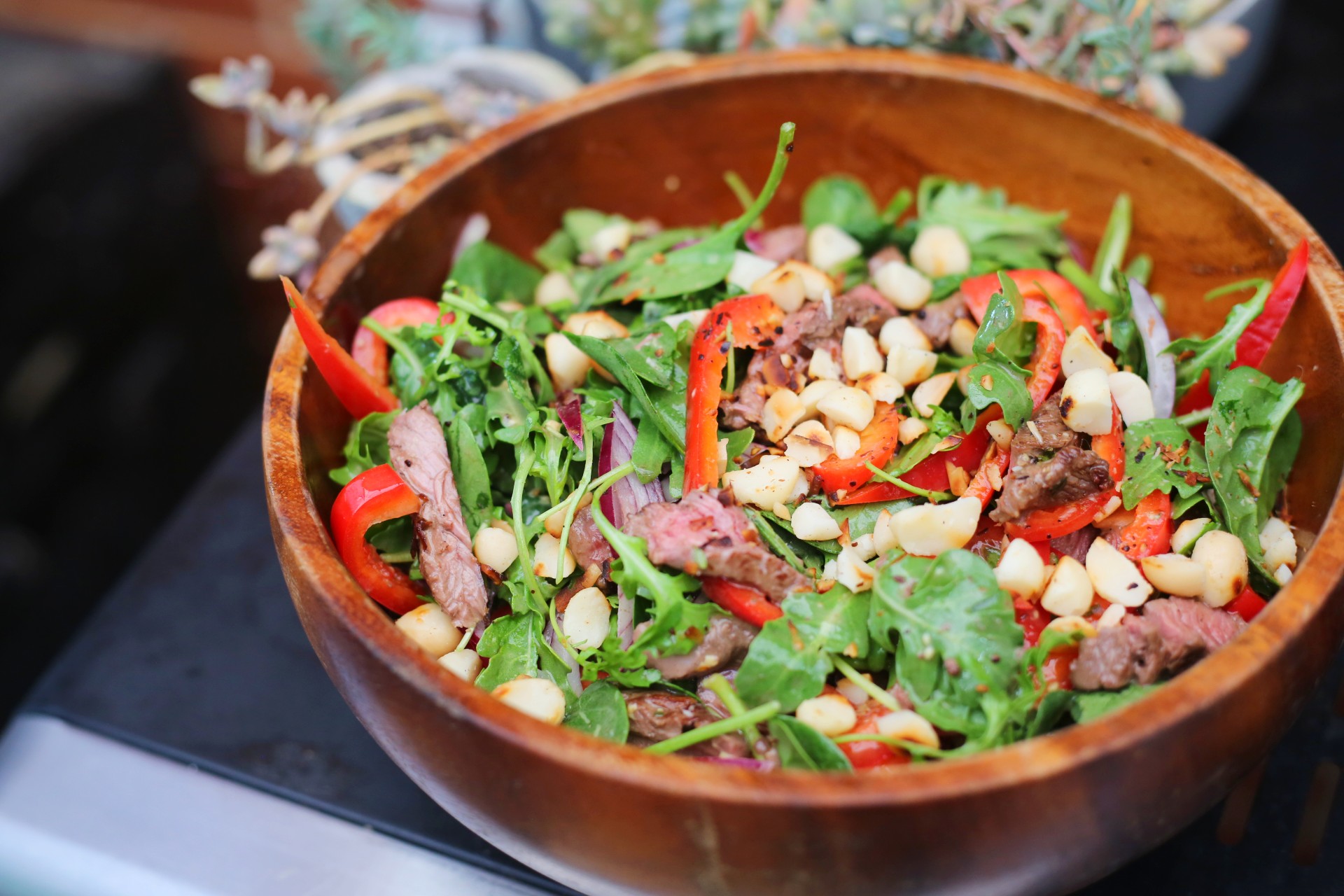 I n just six weeks time, Stage 2 of our Cook Shops Mural & Urban Garden Project will begin!
Excited may be understatement around here, as we go through the final planning stages for the Garden Stage of the project. Two years ago we applied for funding with ACT Government Creative Endeavour Program to have the current Mural painted by the talented Faith Kerehona. In early 2021, that dream began to come to life – enlivening the wall with colour, knowledge and showcasing visually the rich environment which we live in.
During our consultation period we were introduced to Adam Shipp from Yurbay – proud Wiradjuri man and local, currently living in Ngunnawal, ACT.  Adam is passionate about showcasing Indigenous culture and how we use plants for foods, fibres and medicines – who guided us through key local native flora in our Region and their importance.  
Proudly featured in our mural, a selection of local Bush Tucker Plants, including: the Happy Wonderer, Yam Daisy, Silver Banksia, Blue Bell, Nodding Salt Bush and the delicious Native Raspberry. Adam educated us on how to use them and the ways which they are used in traditional cooking methods, plus how he prepares and cooks with them.
It got us thinking – wouldn't it be great to share all this knowledge? So our locals can immerse themselves in Local Indigenous culture and learn all about Bush Tucker plants and their uses.  As all great ideas begin, with curiosity – we thought with all this knowledge and a garden space waiting to be enlivened – why not build a Bush Tucker Garden, with Adam, here in Cook for the locals.
So we asked Adam if he was up for a collaboration together to bring this dream to life for the locals, he said yes! and The Cook Community Urban Garden Project was born.
The Cook Community Urban Gardens Project will beautify our urban space at The Cook Shops and create an Educational Bush Tucker Food Garden that is in harmony with our mural where our community can learn about local Indigenous plant use. This project is in collaboration with Adam Shipp from Yurbay & Tyronne Bell from Thunderstone Cultural Services. Tyronne has been advising our project team of local Ngunawal language use for our Bush Tucker Garden. The names of the plants used will be in English & Ngunawal Language to further educate and connect everyone deeper to our beautiful local Country.
In just under a month's time in March, our Cook Community Urban Garden Project will begin. The perfect start to 2022!
Stay tuned for more details coming for how you can be involved for the planting day and for our future Bush Tucker Workshops with Adam, here in Cook.
We want to say a BIG thank you to Adam & Tyronne for all your guidance and support throughout the inception of this project.
Secondly, this project would not have been possible without the funding from the Office for Aboriginal and Torres Strait Islander Affairs (ATSIA) – thank you for your support & believing in the vision to support local Indigenous businesses for enriching life for the community.
Now – let's get cooking, read on for Adam's delicious recipe!
______________________________________________________________________________________
In the lead up to this exciting event and all our talk on food – we asked Adam if he would have a recipe we could share with our locals, to get them into the spirit of cooking with Bush Tucker foods. Our Recipe feature for February is a tasty Kangaroo & Macadamia Nut Salad seasoned with Native Thyme & Garlic, dressed with a local Honey & Mustard dressing perfect for our late Summer season. Delicious!
CULINARY CBR. is created by our Local Producers FOR our Local Community. 
"G'day! My name is Adam Shipp. I am a proud Wiradjuri man and owner of Yurbay. I am passionate about showcasing my culture and how we use plants for foods, fibres and medicines.  Here is a recipe I love to cook at home.  It is easy and healthy.  Kangaroo meat was an important part of traditional diet. It is lean and full of protein as well as packed with wonderful health benefits.  For the vegetarians out there, you can leave out the roo and just have roasted warm macadamias in the salad. It is just as tasty!
I love to cook and infuse native flavours at home. These days it is even easier to do as there are many online stores that sell these wonderful products.  I generally eat some form of bush food every day and have made it a part of my diet in one form or another. It helps me connect to my ancestral roots even more. Some foods I like to cook include vegetable soups, marinated meat and salads like the recipe I have provided, and even a spin on the classic Bolognaise incorporating saltbush, native pepper and bush tomatoes!".
Thank you so much to Adam for sharing your version of this delicious recipe with us for our February edition of CULINARY CBR. We are looking forward to having more Bush Tucker herbs in the shop too, so you are able to test out switching your herbs in a recipe like this and experience some really delicious flavours. If your looking for a drop to go with your meal Adam recommends a Oyster Bay, Pinot Noir and Daniel says a Capital Brewing Co's, Coast Ale will do the trick!
Be sure to share Adam's recipe with your family & friends and tag us in your recipe creations too! And without further ado, here is Adam Shipp's Kangaroo & Macadamia Nut Salad for our February edition of CULINARY CBR. This is our initiative to support & eat local with Canberra & Regional Producers. Enjoy!
______________________________________________________________________________________
Kangaroo & Macadamia Nut Salad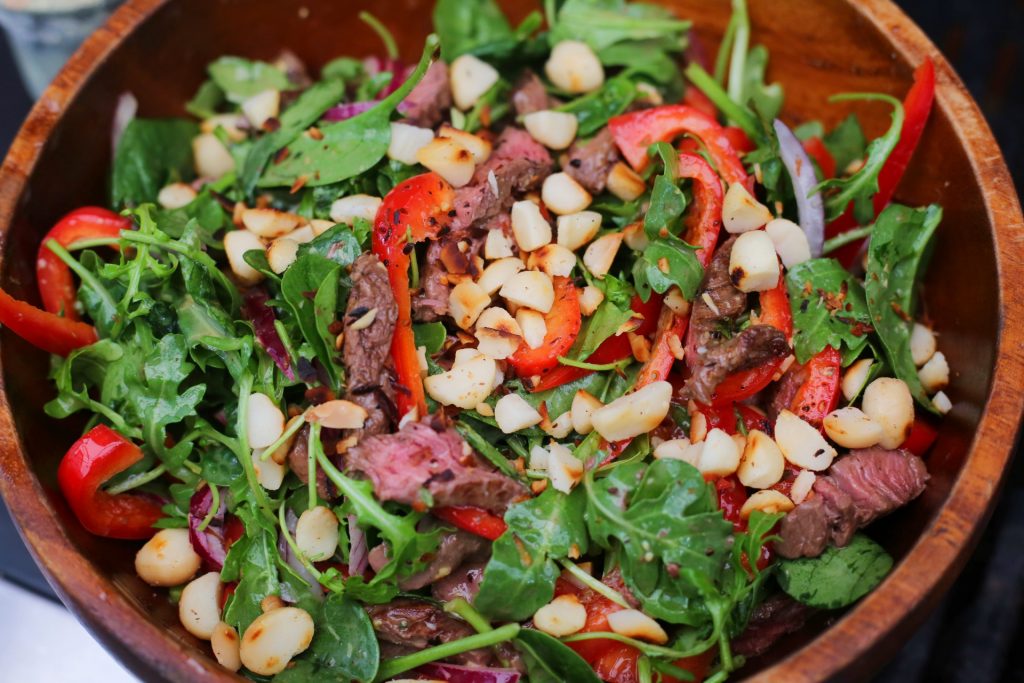 by Adam Shipps from Yurbay
Ingredients 
1 bunch Native Thyme or Thyme
3 cloves garlic, crushed
1 tbsp macadamia oil
600g Kangaroo fillets
sea salt and freshly ground pepper
150g baby spinach, washed
150g rocket, washed
1/2 red onion, thinly sliced
1 red capsicum, thinly sliced
1/4 cup macadamias, roughly chopped then toasted
Honey Mustard Dressing 
1 tsp Dijon mustard
2 tsp honey, local
2 tbsp sherry vinegar or white wine vinegar
1/3 cup macadamia and olive oil mix
METHOD

For the dressing, whisk the Dijon mustard, local honey, your choice of vinegar and oil mix in a bowl until combined.

Using a mortar and pestle, pound the native thyme, garlic cloves and macadamia oil to a paste. Transfer to a bowl you will marinate your Kangaroo Fillet in.

Slice the Kangaroo Fillet in 1cm thick slices and then a

dd the kangaroo fillets to the spice marinade. Massage and coat the marinade into the meat. Cover with plastic wrap and chill for at least 1 hour, preferably overnight for a stronger flavour.

Heat chargrill pan or barbecue over high heat. I wait til the plate is slightly smoking. When hot, add the kangaroo fillets and cook for one and half minutes each side for medium-rare or until the fillets are cooked to your liking.
Transfer to a plate and rest, covered loosely with foil, for 5 minutes.
On a small skillet, lightly toast your macadamia nut's until they are golden brown for extra flavour.
Combine spinach, rocket, red onion, capsicum and macadamia's in a large bowl.
Before adding your Kangaroo Fillet to the salad, slice the fillets thinly after cooking & resting. Then scatter the fillet over the prepared salad. Drizzle with your honey mustard dressing and serve immediately.
ENJOY!
Recipe Notes & Options
To cook in the traditional method and for a great flavour, you can cook your Kangaroo Fillets over a fire.

You can substitute lettuce for Warrigal Greens. *if you have access to these plants and ingredients.
Please note – Warrigal Greens must always be blanched before eating, as the leaves contain oxalates which in high quantities can have adverse effects.
Simply blanch in boiling water for around 10-15 seconds, remove and refresh under cold water.

You can change up your flavours for the spice rub – Adam recommend's Lemon Myrtle, Native Pepper & Saltbush 

Adam also recommends serving your Kangaroo & Macadamia Nut salad with home made damper.





Each month we are releasing a recipe from a local Canberra Producer to help you cook at home with our Regions Finest. It will help you take the guesswork out of meal planning or last minute decisions – everything available IN STORE for you to join us on our CULINARY CBR. journey.
We acknowledge the Traditional Custodians of the ACT, the Ngunawal people. We acknowledge and respect their continuing culture and the contribution they make to the life of this city and this region.