CULINARY CBR. featuring Danielle Minney from The Cook Grocer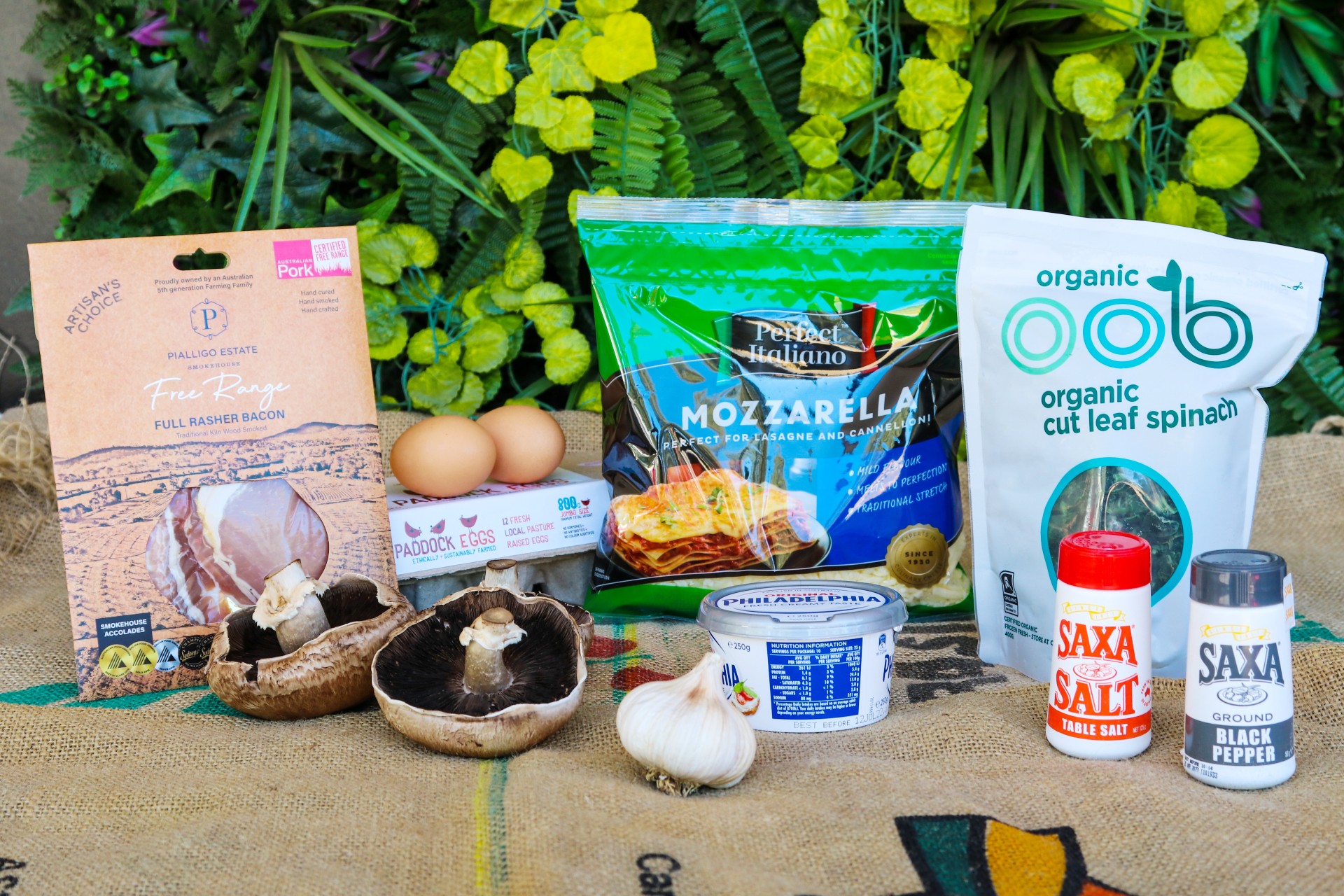 W e chat ALOT about what is for dinner – that very question was what inspired our CULINARY CBR series to begin with it. What started as featuring our local producers has transformed into being so much more. It is now evolving into a local series by locals  including local producers, chefs, makers & our team here at TCG.
Our team here at The Cook Grocer are BIG Foodie's – passionate about products you will find in store but more importantly what you create in the kitchen with those products!
You will often hear the words, "what's on the menu tonight?" from Danielle Minney, our long time serving staff member, who will serve you daily at the front counter. Always keen to hear of your creations tonight with products you are purchasing.
Danielle is well known for a recipe swap or two with each of you. And it got us thinking… What are our staff cooking at home, what recipes do they love? When we asked Danielle what is her favourite recipe to cook, she replied with a list – A passionate foodie indeed! So we can not resist our queue to make our staff's favourites a monthly feature right here alongside the Canberra Producers!
Our Recipe feature from Danielle this month is a moorish Keto Stuffed Mushrooms dish – featuring a Murrumbateman grown Portobello Mushroom by Majestic Mushrooms. As the temperature starts to drop locally, we instinctively look for the comfort of warming food, seasonal mostly and delicious. This dish is the perfect remedy!
Enjoy our March edition of CULINARY CBR. Our local series is created by our Locals FOR our Local Community.
____________________________________________________________________________________
As we celebrated International Women's Day this month, we took some time with Danielle to know what she loves about working here at The Cook Grocer.
1. Could you let us know what drives you?

Being a people person drives me. I take great satifaction in providing excellent customer service. I like making a positive impact on people lives.
2. Top Three Products are:
Pialligo Bacon
The Food Dispensary – Spicy Arribiatta Sugo
Jasper & Myrtle – Lemon Myrtle Macadamia Nut Chocolate
3. What you love most about working at The Cook Grocer?
I love the strong community ties of working at The Cook Grocer, many customers have known me & my daughter for over 15 years. I was a Cook Local for over ten years and while I no longer reside in Cook, it still feels like home to me. I get to spend my days talking food and swapping recipes with customers and let's face it, Food is the best invention since sliced bread.
4. Lastly what is a fun fact, food related of course, about yourself?
While I'm a passionate foodie, I am more than partial to a toasted cheese sandwich or baked beans on toast!  Sometimes it is the ultra simple foods that is the best food to eat! 
Now – let's get cooking, read on for Danielle's Keto Stuffed Mushrooms, it is such a delicious recipe!
CULINARY CBR. is created by our Local's FOR our Local Community. 
Thank you so much to Danielle for sharing your version of this delicious recipe with us for our February edition of CULINARY CBR. We are looking forward to having more Bush Tucker herbs in the shop too, so you are able to test out switching your herbs in a recipe like this and experience some really delicious flavours.
If your looking for a drop to go with your meal Danielle recommends filtered H2O as Mother Nature intended and Daniel says a glass of Nick O'Leary Tempranillo will perfect a perfect pair for the mushrooms and cheese!
Be sure to share Danielle's recipe with your family & friends and tag us in your recipe creations at home. And without further ado, here is the mouth watering recipe for our March edition of CULINARY CBR. This is our initiative to support & eat local with Canberra & Regional Producers (and our staff!). Enjoy!
______________________________________________________________________________________
Keto Stuffed Mushrooms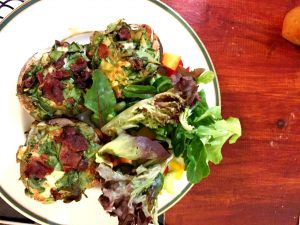 by Danielle Minney from The Cook Grocer
Ingredients 
4 slices bacon(long rashers) if using short cut I would do 6
80 grams baby spinach
1 Garlic clove
85 grams cream cheese
1 large egg
2 tablespoons coconut flour
1 cup grated Mozzarella cheese
Salt and pepper to taste
6 Portabello Mushrooms
METHOD

Preheat oven to 180 degrees

Remove stems from the mushrooms and chop finely. Cook them lightly and then reserve.

Dice the bacon and cook off.

Cook baby spinach fry in the fat from the bacon or steam if you choose.

Put all ingredients in a bowl to mix through but reserve some bacon for the top of the mushrooms.

Stuff the mushrooms with the mixture.

Place on oiled roasting tray and roast for approximately 20 mins.

I love to serve my stuffed mushrooms with Roasted Asparagus and salad on the side.
ENJOY!
Recipe Notes & Options
You can easily swap the coconut flour for almond flour

Also for the grated mozzarella cheese, easily swap it for Parmesan or Tasty – even Lactose Free or Vegan Cheese

You can also add the Baby Spinach raw to the mushrooms instead of lightly cooking it in the bacon fat, depends how you enjoy your spinach & the fat content!

I find this is two generous servings

You could use smaller mushrooms and make more.

I tend to leave out salt due to bacon and cheese that's in the recipe.





Each month we are releasing a recipe from our community – be it a Producer, a Chef, our team or a loved Local – we want you to cook at home with our Regions Finest. It will help you take the guesswork out of meal planning or last minute decisions – everything available IN STORE for you to join us on our CULINARY CBR. journey.