CULINARY CBR. featuring Italian & Sons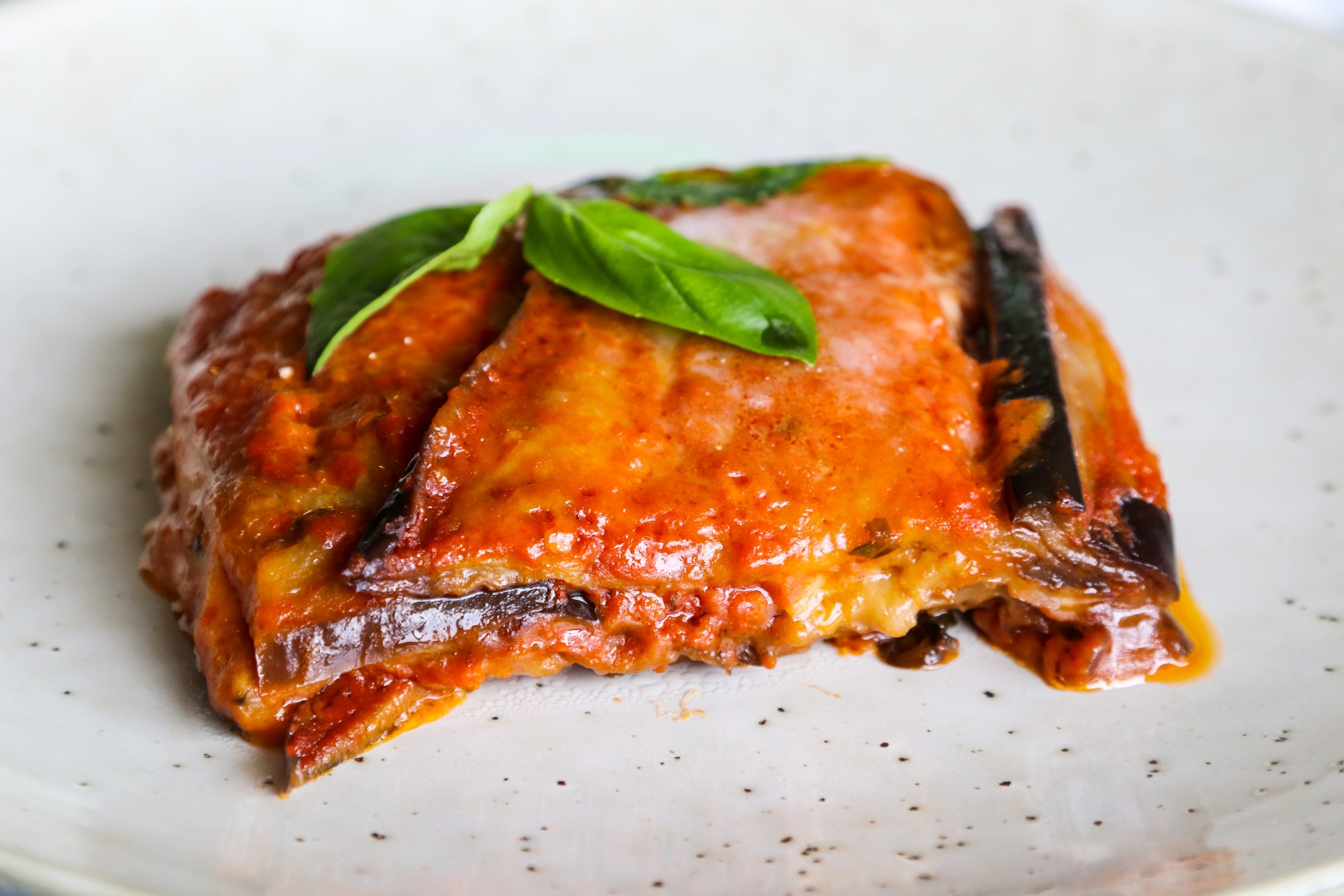 I s it Spring, Winter, Summer? And how much rain is too much rain!
All we know is when it does stop raining and the sun does come out for longer than two days – our local's vegetable gardens are going to begin bursting with tomatoes, eggplants, zucchini, herbs, fruit and so much green foliage you won't believe you live in Canberra. 
The future looks green and plentiful, thanks to La Niña!
Early November we all began planting out the tomato seedlings. Brave enough to hope there won't be anymore plummeting temperatures below 10 degrees (fingers crossed!) that would zap our seedlings. 
All our preparation for the summer growing season ahead, has us thinking of what recipes will we create with our home grown harvest? We really thought "what recipes are going to inspire you to eat what you grow?", "how can it be really, really local?" and celebrate locals at the same time? 
Well we came up with a local winner – Eggplant Parmigiana by Italian and Sons, cibo bellissimo!
This dish is an Italian Classic & our locals love it!
Our front fridge is packed full of our Canberra Producers freshly made products. Freshly made meals that you can pick up, take home and heat up with little effort plus they are super healthy, made with love and care by locals for our locals! Just how good can it get!
Italian and Sons joined our local retail shelves in lockdown to offer their handmade pastas, mouthwatering sauces (do try the Eggplant Sugo alla Norma), lasagna's, eggplant parmigiana and the "to-die-for " tiramisu. It has been one of the best gifts of 2021!
The second best gift is Italian and Sons sharing their recipe for their Eggplant Parmigiana. 
Daniel recommends pairing your Eggplant Parmigiana with Nick O'Leary's Red Blend and Pat recommends a Sangiovese from Tuscany. 
Thank you so much to Pat and the crew from Italian and Sons for sharing their recipe for this delicious dish for our November edition of CULINARY CBR.
Enjoy trying out this delcious recipe and we also recommend tending to your tomatoes, basil and eggplants throughout the summer. You will forever be grateful you did as this recipe will become a family tradition for years to come. Memorabile!
______________________________________________________________________________________
If you have not had the experience of dining in at Italian and Sons in Braddon, then you must.
Winner of many awards including One Hat status for 11 years running, this Braddon institution is a national destination for travellers to Canberra and locals alike. While the name evokes images of checked cloths and wax-encrusted Chianti bottles, Italian and Sons is a niftily modern affair.
A modern version of what you would expect of a Roman trattoria.
While the pendant lamps cast a glow across a buzzy, sleek, timber-panelled space, and the wine list contrasts edgy naturals with the legends of Tuscany and Piedmont. The kitchen turns out trattoria style dishes from the wood fired oven and hand made pasta, but shakes things up with specials and shared plates. Kick off with fiery 'nduja and outstanding focaccia – crisp, light and rich with rosemary and olive oil. Hand-rolled pici noodles are tossed through a rabbit and porcini ragù made more decadent with smoked butter, and the wood-fired oven does wonders for Chianti-braised octopus. 
Italian and Sons is as warm and assured as tradition demands. 
Our favourite recipe at home would be our eggplant parmigiana that is ideal for a summer picnic.
And without further ado, here is Italian and Sons Eggplant Parmigiana Recipe for our November edition of CULINARY CBR.
This is our initiative to support & eat local with Canberra & Regional Producers.
______________________________________________________________________________________
Eggplant Parmigiana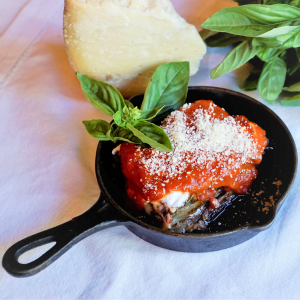 by local producer Italian and Sons
INGREDIENTS
½ cup olive oil
4 baby eggplants, look for thin skins
1 tin peeled tomatoes
3 tablespoons chopped fresh basil
5 cloves garlic, chopped finely
200g ricotta cheese, optional
700g fresh bocconcini, drained
2 cups finely grated parmigiano
METHOD
Preheat oven to 180C. Line a rimmed baking sheet with parchment and brush the parchment with olive oil.
Cut the eggplant into 2cm slices and arrange in a single layer on the prepared baking sheet. Brush with olive oil and sprinkle with sea salt. Flip the slices over and repeat, so now both sides of the eggplant are oiled and salted. Roast until golden brown, about 30-40 minutes, turning the eggplant halfway through.
Transfer the baking sheet to a wire rack and let cool while you prepare the remainder of the ingredients. Reduce the oven temperature to 160C.
In a saucepan, heat 2 tablespoons of olive oil along with the garlic over medium heat. Let cook until the garlic is fragrant and starting to toast. Add the tomatoes to the pan and bring the sauce to a simmer. Simmer until thickened, about 10 minutes. Turn off the heat, then add the basil and season to taste with salt and pepper. Cover to keep warm.
Assemble the Eggplant Parmigiana by spreading a thin layer tomato sauce on the bottom of a baking dish, followed by a layer of the roasted eggplant. Add another layer of the tomato sauce, and dot with the bocconcini and grated parmesan. Repeat this step until you have three layers. Finish with some tomato sauce on top.
Cover the dish with foil and bake for 25 minutes, or until the filling is bubbling.
Once the filling is bubbling, take the baking dish out of the oven, remove the foil and sprinkle the parmesan evenly over the top. Continue baking, uncovered, until the topping is golden brown and crisp, about 15 minutes. Avoid burning the parmesan by drizzling some olive oil over the top. Let cool 10 minutes before serving.
Serves 4 to 6
ENJOY!




Big thank you to Sally Witchalls  for capturing some beautiful shots of this month's recipe. 
Each month we are releasing a recipe from a local Canberra Producer to help you cook at home with our Regions Finest. It will help you take the guesswork out of meal planning or last minute decisions – everything available IN STORE for you to join us on our CULINARY CBR. journey.