CULINARY CBR. featuring Black Horse Fine Foods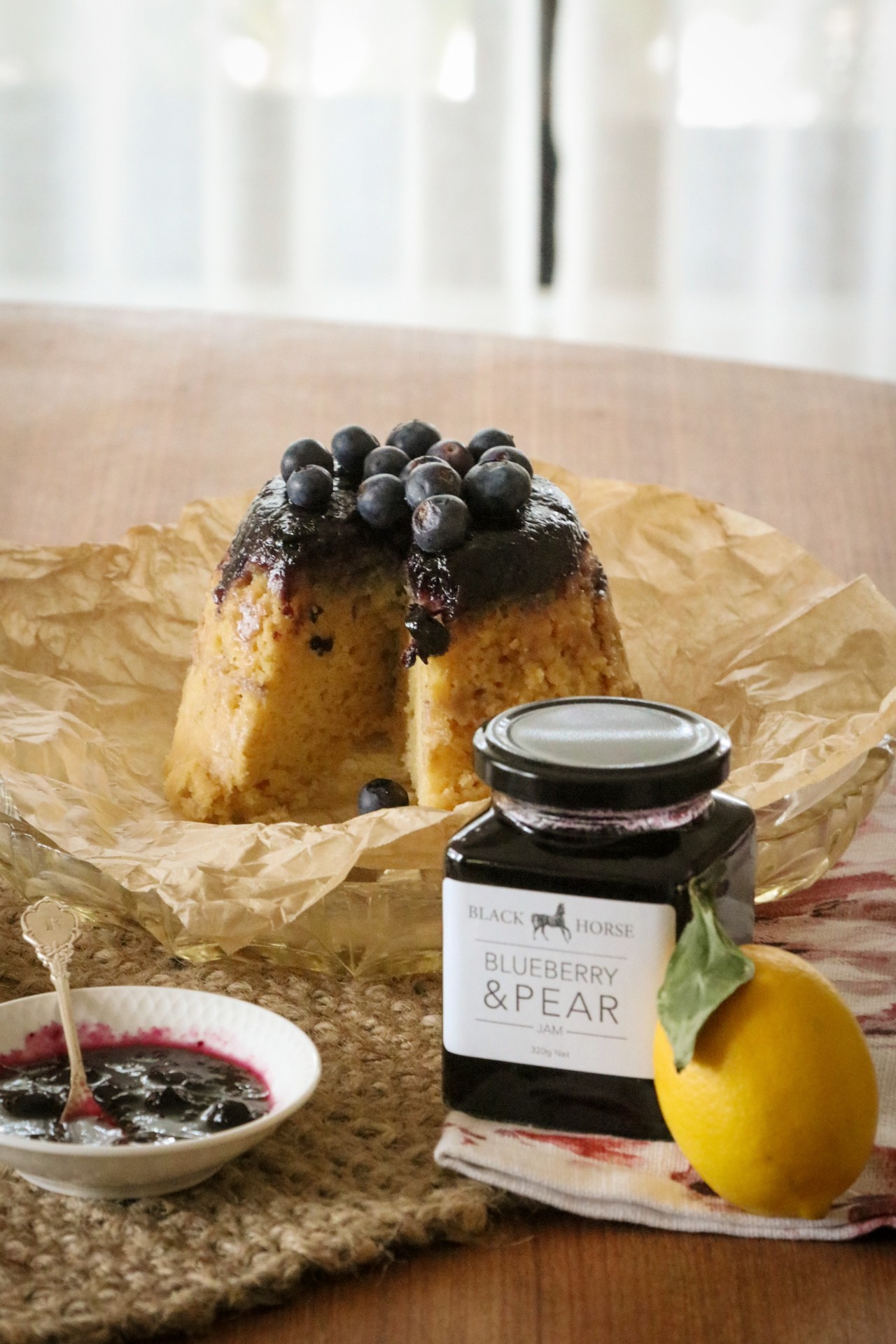 A fter dinner comes dessert!
Many of you come in store to grab all the ingredients for dinner and then instantly search for that little something sweet – be it "just because", a birthday party, special dinner (when we can) or for the love of cake. Which gave us inspiration for our next recipe release.
Right now our season is starting to change, we got some beautiful warm days this week and inspiration for freshness as we near the end (fingers, legs and toes crossed) of our lock down month. We thought why not fill the air this weekend with vanilla sponge and blueberries to celebrate the season and Father's Day.
In our September edition of CULINARY CBR. Black Horse Fine Foods have created the perfect at home pudding which is effortless and delicious. The aroma of warming vanilla sponge pudding will drift through the air, warming you up and make you feel so comfortable at home.  Perfect for today's rainy day!
Daniel recommends pairing it with a tipple of  De Bortoli's, Noble One Botrytis Semillon or for those liking a something less sweet Nick O'Leary's White Rocks Riesling.
Thank you so much to Ken & Leone from Black Horse Fine Foods for being a part of our series.
______________________________________________________________________________________
Family-owned and operating in Canberra for 20 years, Black Horse Fine Foods in a local treasure.
Ken & Leone have been producing jams, chutneys, relishes and marmalades together since 2001. Ken started out making a few sauces, just experimenting as a hobby. Gradually he started making more and more, and then about 10 years ago, he decided to try to sell them at the markets. With great success!
Those small few batches of jams has grown to now producing a wide range of premium quality jams, marmalades, chutneys, relishes, sauces and gourmet goodies.
A wholehearted approach, from farm to table, they source majority of their produce at local farmer's markets. Ensuring high quality in every batch. And BTW no artificial colouring, flavouring or preservatives. Their Blackberry & Pear Jam tastes home made each and every time. It has become a shop favourite here at TCG.
And your probably wondering 'Why Black Horse?' a lot of people ask. Truth be told, Ken has always had a dream to own a black horse and he made his dream come true – maybe not with a Melbourne Cup contender but he certainly has a winner.
Here is Ken's Blueberry & Pear Sponge Pudding Recipe for our September edition of CULINARY CBR. featuring Black Horse Jams.
This is our initiative to support & eat local with Canberra & Regional Producers.
______________________________________________________________________________________
Blueberry & Pear Sponge Pudding
by local producer Black Horse Fine Foods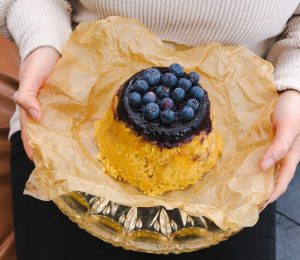 INGREDIENTS
1/2 cup Black Horse Blueberry & Pear Jam
125g butter, softened
1/2 cup caster sugar
1 teaspoon lemon juice
1 teaspoon vanilla essence
2 eggs
1 1/2 cups self-raising flour
1/2 cup milk
METHOD
Put the jam in the bottom of a greased four-cup pudding basin.
In a bowl, beat the butter, sugar, lemon juice and vanilla essence until pale and creamy. Add the eggs one at a time, beating well after each egg.
Add the flour and milk alternatively to the butter mixture and stir until just combined.
Spoon into the pudding basin over the jam and smooth the top.
Cut a 30cm square of foil and a 30cm square of baking paper. Put baking paper over foil and pleat the centre of both sheets.  Place the paper and foil over the pudding basin and tie securely with string, going around the basin rim twice. Crumple the foil and paper tightly around the rim of the basin.
Follow your preferred cooking method below, either in a slow cooker or on the stove top.
Serve warm with cream or ice-cream. Serves approximately 8.

Slow Cooker Method:
In a slow cooker, put in an upturned saucer and place the pudding basin on top.
Pour in boiling water to come half way up the side of the basin.
Cover and cook on high for 3 1/2 hours.
Remove the pudding from the slow cooker and let stand for 10 minutes before serving.
Serve warm with cream or ice-cream. Serves approximately 8.

Stove Top Method:
Bring a pot of water to the boil (fill about 1/4 full).
Place saucer upside down on the bottom and put pudding basin on top – water should come about 1/2 way up the side of the basin.
Bring pot back to the boil, cover and reduce heat.  Add extra boiling water during cooking if needed.
Simmer for 2 hours then remove pudding warm and serve.
Serve warm with cream or ice-cream. Serves approximately 8.

Ken's Tip: The pudding is best served warm.
To reheat in the oven, remove wrappings from the pudding. Wrap in foil and reheat at 300ºF (150ºC) for an hour or until hot.
To reheat on the stovetop, remove wrappings and place the pudding in the original mould. Cover tightly. Set pudding mould on a trivet in a large saucepan and steam 3/4 – 1 hour or until hot.
To reheat in the microwave, remove wrappings from the pudding. Cover with a microwave safe covering, heat gently for 30 seconds.
ENJOY!





Big thank you to our Local Photographer Sally Witchalls for capturing our recipe shoot.
Each month we are releasing a recipe from a local Canberra Producer to help you cook at home with our Regions Finest. It will help you take the guesswork out of meal planning or last minute decisions – everything available IN STORE for you to join us on our CULINARY CBR. journey.
______________________________________________________________________________________